Voiding a check is a common practice when somebody wants to make their check invalid or when they simply want to give out the necessary bank account information. It's not difficult to do, but it's important you do it correctly to avoid any financial problems later on.
In this article, we'll give you a step-by-step guide on how to void a check successfully. We'll also give you some additional information on different methods of doing it, as well as reasons for voiding a check.
What Is a Voided Check?
Simply put, it is a check with the word "VOID" written on it, usually in big letters across the middle part of the check. This creates a voided check, meaning that the check cannot be cashed or deposited, as it no longer has any value or effect. A voided check looks like this: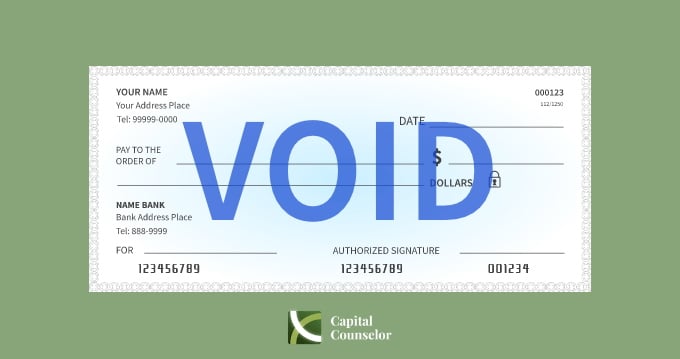 Of course, you can always tear the check and throw it away — just don't forget to note in your registry that you voided it.
So, what can someone do with a voided check? No matter what amount you write on a check, if you void it, it becomes financially empty, and the receiver cannot use it to withdraw money. That's not to say that they can't be used in other ways, but more on that below.
How Do You Void a Check?
Considering that non-cash transactions are projected to reach 1 trillion by 2024 — which includes those paid by checks — knowing how to void one is a must.
Let's see how you can do it for different purposes and in different ways.
How to Write a Voided Check for Direct Deposit 
If

you don't have a checkbook, you should contact your bank to receive one. Use a blank check that has the account information you want to provide.

Write the word "VOID" across the middle area in big letters. 
You may also use small letters and write "VOID" over the essential parts of the check, like the payment amount, signature line, and recipient line. 
Both methods are completely acceptable.
Don't write over the check numbers at the bottom, as the person you're giving the check to will need those numbers to create a link with your account.

Make sure to use a pen that can't be erased — you may also use a marker.

Keep some kind of record of the voided check in case you need to remember why you voided it. It's a good idea to write down the reason you canceled

it.
Voiding a Check Online
How to get a voided check if it's not a physical check? By completing these simple steps:
D

epending on your bank, you may be able to cancel a check if you have access to your account via a phone app or website. 

Log into your account, and see if there is an option to stop a payment or void a check. If you find it, just click on it. Make sure to cancel the right check — pay attention to the check numb

er.

However, you must do so before the payment gets processed. If you do it quickly enough, the check will not be cashed, and you won't lose any money. However, you may need to pay a fee for this service.

If it has already been processed, you will need to contact your bank directly.
Voiding a Check via Phone
If you don't have access to your account online or via a phone app, or if you want to talk to a real person, you can also void a check by calling your bank directly. 
Ask them to stop the payment order (give an order to stop a check that has been issued but not cashed yet). Again, they may charge you a fee for it.

Make sure you have all the necessary information, like the check number, date, amount of money written on it, recipient name, etc. 

They may also ask you about the reason for stopping the payment. Sometimes, the bank might ask you to submit a written request as well. 
Why Would You Void a Check?
There are a few reasons for voiding a check, from fixing a mistake in the written amount to making business payments. Here are a few most common ones.
Providing Account Information 
As you've probably noticed before, your checks have all your information on them. 
It's recommendable to know what a voided check example looks like as employers will often ask for such a check simply because it's the safest way to get correct info about your bank account. A blank check will have everything necessary for depositing your paycheck.
So, if you want to give somebody your account information without the risk of them using that check to withdraw money from your account, you can give them a voided blank check. This way, they can use it only for its intended purpose.
Of course, this isn't the only way of getting account information — you can provide it in various other acceptable ways. It's often preferred as it reduces the chance of making a transcription mistake.
Setting Up a Direct Deposit
Related to the above, providing the person with your financial information, like the routing number and the name of your bank, allows them to set up your direct deposit.
Making Business Payments
If you run a company or some type of organization, and your clients want to be paid online, voiding a check may be a part of setting up your business payments.
Allowing Automatic Payments 
A real voided check can also be used for setting up automatic payments. This can come in handy when paying bills and other recurring expenses, as you're less likely to forget them this way.
Fixing a Mistake
As mentioned, mistakes happen, and if you write the wrong name of the recipient or the wrong amount, you may need to void a check you've already written. 
For example, if you write a check to a couple, but their account is only in one name, they may have difficulties depositing it.
Canceling a Payment
If you want to cancel a payment for any reason, you can void a check after you've already sent it or given it. As we explained, you can do it online or via phone call.
Safety Considerations for Voided Checks
No matter how careful you are, using paper checks will always be riskier than using other means of payment. This is due to the sensitive information they contain, so it's essential that you know how to read, void, and endorse checks.
Therefore, make sure to use a writing tool that can't be erased, and always keep your voided checks either safely stored or disposed of.  
Conclusion
As you can see, knowing how to turn a check into a void one can come in handy in more than one situation. So, if your everyday routine involves working with checks, learning how to write a void check is an essential part of using them safely and efficiently.
FAQs
Why would you void a check?
There are many reasons for voiding a check. 
The simplest reason is making a mistake — writing the wrong name, date, or amount of money.
You may want to void a check to provide somebody with information about your bank account (without giving them the opportunity to withdraw money from it).
Voiding a check is also useful when setting up automatic payments, whether we're talking about paying your utilities or receiving your paycheck.
Finally, you can also void a check after you've already sent it, which is usually done if you want to cancel a payment.
How long does it take to void a check?
Usually, it takes about two days for a check to clear, which is why all sources emphasize the need to be fast. If you act quickly and cancel your check before it's cashed, it should be voided as soon as the cancellation process is done.
What are the 3 steps to voiding a check?
The simplest way how to void a check can be summed up into three main steps:
Use a pen that can't be erased or a marker

Write "VOID" either in large letters across the whole middle or in small letters on the payee line, amount line, date line, and signature line. 

Make a personal note or a copy of the check for your own records.